Susie Orbach – British psychotherapist & author "Fat is a Feminist Issue"
Ruchi Anand – Indian international relations professor
Paola Audrey Ndengue – French co-founder Fashizblack magazine
Maysa – Lebanese student
Eri Shibata – Japanese sculptor
Harrison Pope – Harvard Medical School, author of "The Adonis Complex"
Jean Kilbourne – filmmaker, author and activist, best known for "Killing Us Softly"
Anna Utopia Giordano – Italian artist
Daniel Horowitz – American university professor & author "The Anxieties of Affluence"
Berangere Portalier – French magazine editor "Causette"
Nadine Moawad – Lebanese activist, Nasawiya Feminist Collective
Toni Nassar – Brazilian plastic surgeon working in Beirut, Lebanon
Hala Ajam – Lebanese celebrity make-up artist
Maher Mezher – marketing manager, Lebanese National Bank
Ariane – student
Rola Yasmine – Lebanese activist, member of Nasawiya Feminist Collective
Akane – Japanese professional make-up artist
Hisako Motoyama – Japanese activist, head of the non-profit Asia-Japan Women's Resource Center
Jo Swinson – British Member of Parliament, co-founder of the Campaign for Body Confidence
Laura Mulvey – feminist film theorist
Tetsuya Ando – Japanese researcher, National Institute of Mental Health
Jason Karlin – author "Idols & Celebrities in Japanese Media Culture"
Gail Dines – professor, activist & author of "Pornland"
Stephanie – American student
Susan Linn – Instructor in Psychiatry at Harvard Medical School, "Campaign for a Commercial-Free Childhood"
Writer, Producer & Director
Cinematographer
Elena Rossini
Associate Producer
Erika Franchini
Original Music by
Pierre-Marie Maulini (STAL)
Music Executive Producer
Olivier Linglet
Sound Design & Mix
Ludovic Jokiel (AOC)
Film Editing & Motion Graphics
Elena Rossini
Supervising Editor
Laura Minnear
Consulting Editor
Louis Goldschmidt
Associate Producer
Garrett Zevgetis
Additional Writing
Laura Minnear
Legal Services
Educational Distribution by
London, UK Crew
production assistant: Stephanie Ifill
sound engineer: Olivier Ducray
Boston, US Crew
sound engineer: Erik Johannessen
second camera operator: Karen Schoucair
production assistant: Reina Gattuso
production assistant: Michelle Ju
Beirut, Lebanon Crew
2nd director of photography: Zeina Tabbara
sound engineer: Olivier Ducray
consultant: Youssef Chaker
consultant: Nader Nakib
consultant: Leotie Scheiderman
consultant: Karen Schoucair
consultant: Yasmine Hajjar
Mumbai, India Crew
director of photography: Avijit Mukul Kishore
Tokyo, Japan Crew
production assistant: Kanako Iwai
sound engineer: Olivier Ducray
consultant: Robert Day
special thanks: Yuichi Shimizu
Marketing Strategist
Haley Hogan
Social Media Advisor
Translations
French: Laetitia Bazelly, Karima Bouaiss, Gael Imad Eddine
Italian: Veronica Zurzolo (full film & landing page); Chiara Papaccio & Lawrence Oluyede (teaser trailer)
Spanish: AnyBody Argentina, NEO Language Services and Belén Llanos. Special thanks to Sharon Haywood
Interns
Quinn Davis
Rachel Lunt
Sheena Vasani
The Filmmaker
Elena Rossini
producer, writer, director, cinematographer & editor of The Illusionists
Elena Rossini is a filmmaker, DP, photographer, multimedia producer and blogger.
At age 24, Elena worked as writer, producer, director, cinematographer and editor on Dove Sei Tu, a feature-length narrative film set in between Milan, Lake Como, and Rome, Italy. Other notable film projects include the documentary short Direction, shot in Tokyo and Paris, and Ideal Women, a short documentary juxtaposing beauty ideals in the art world vs. mass media, commissioned by ARTE Web and the Louvre Museum. The film was screened at women's conferences in the United States and Argentina.
In 2009, Elena launched a multimedia platform – No Country for Young Women – whose aim is to promote the visibility of professional women and to provide real role models for young girls. By now the site features over 100 interviews of women, age 17 to 91, across five continents: from entrepreneurs to NASA engineers, illustrators, architects, filmmakers, non-profit directors, award-winning novelists, and more.
Elena worked as a writer, producer, cinematographer and director on The Illusionists, a documentary about the marketing of unattainable beauty ideals around the world. The film was financed through a crowdfunding campaign, amassing donations from over 360 individuals; filming locations include the U.S., U.K., the Netherlands, France, Italy, Lebanon, India and Japan. Post-production has recently wrapped and plans for distribution will be unveiled soon.
The Illusionists was selected by filmmaking site indieWIRE as its "Project of the Day" and also won the title of "Project of the Week" by popular vote. Dozens of blogs and print publications – including VOGUE Italy, The Cut, Jezebel, and financial daily Il Sole 24 Ore – have written about the project.
In the summer of 2014 Elena co-founded Gender Gap Grader with Elian Carsenat – a platform empowering companies and organizations with innovative tools to measure the gender gap.
Elena also works as a freelance videographer, photographer and writer. Her work has appeared on Corriere della Sera, Jezebel, indieWIRE, Adios Barbie and Gender Across Borders.
Last year Elena was selected for the prestigious Young Leaders program by the Council for the United States and Italy.
Elena's website:
elenarossini.com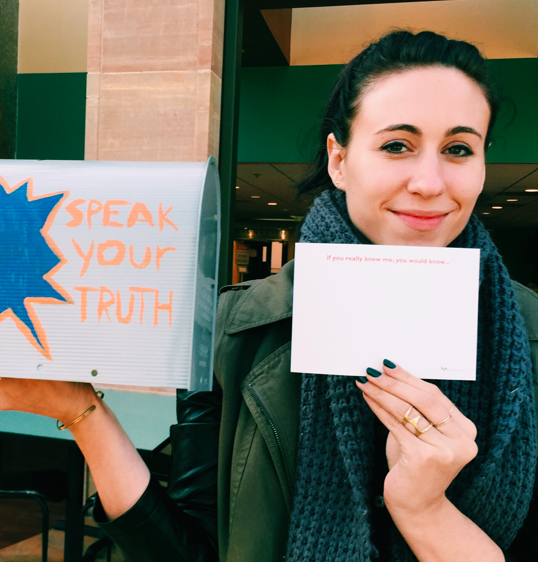 Email: serena [at] theillusionists [dot] org
North America Tour Manager
Serena Shapero
Tour manager, outreach and development coordinator, workshop leader
Serena Shapero is a Baltimore based health educator, writer, radio show personality, and musician. She oversees ifiknew.org, a health initiative for young adults through Jewish Community Services that uses a multimedia approach, including social media and in person programs, to address the contemporary issues that impact the well-being, self-image, careers, and relationships of people in their 20's and 30's. Her work focuses on finding ways for young adults to feel seen, valued, and heard. Serena works with an incredible team to create and implement prevention education programs on positive body image, HIV/AIDS awareness, substance abuse, cyber bullying, media literacy, and healthy relationships for the greater Baltimore community.
Since joining The Illusionists, Serena has been overseeing North America tour operations; she is in charge of outreach and development and has been taking The Illusionists to school and after school programs leading workshops and discussions.