A guest post by Chicago-based artist Tiffany Gholar.
Fashion Doll or Fashion Victim?
Is Barbie to blame for giving girls body image issues, or are there larger forces at work? The Doll Project explores the influence of visual culture and societal norms while caricaturing and satirizing unattainable standards of beauty. In a world where girls gather online to remind each other that "nothing tastes as good as thin feels" and diet ads ask "what will you gain when you lose," even Barbie is never thin enough. The Doll Project dramatizes this quest for perfection in miniature. Each picture tells a story from my perspective as an ambivalent doll collector who has a love/hate relationship with the fashion industry. The photographs in this series show how both the iconic fashion doll and the fashion world around her have changed in the decades since her introduction, and culminate in a dynamic poster designed to remind women and girls to love and accept themselves no matter what they look like.
Artist Statement
The Doll Project is a series of conceptual digital photographs of fashion dolls that embody the negative messages the media gives to young girls. Though it would not be fair to blame it all on Barbie, there have been many instances in which she has come dangerously close. I chose to use Barbie dolls because they are miniature mannequins, emblems of the fashion world writ small, a representation of our culture's impossible standards of beauty scaled to one sixth actual size.
Both the little pink scale and the How to Lose Weight book are real Barbie accessories from the 1960s. They are recurring motifs in the pictures in the series, symbolizing the ongoing dissatisfaction many girls and women feel about their weight and body image. The dolls' names, Ana and Mia, are taken from Internet neologisms coined by anorexic and bulimic girls who have formed online communities with the unfortunate purpose of encouraging each other in their disordered eating. With each passing era, Ana and Mia are younger and younger, and the physical ideal to which they aspire becomes more unattainable. They internalize the unrealistic expectations of a society that digitally manipulates images of women in fashion and beauty advertisements and value their own bodies only as objects for others to look at and desire.
Family of Origin
The family is a microcosm of society. If parents have bought into the mentality of society at large when it comes to issues of body image, they can easily convey these same destructive views to their daughters. Overhearing self-deprecating remarks, diet plans, disparaging comments about other women's bodies, as well as their own, become commonplace in everyday interactions.
This part of The Doll Project explores how such attitudes and self-perceptions are mirrored, passed down, taught, and enforced, and how destructive they can be when they are internalized by young girls still in the process of constructing their sense of self and of self-worth.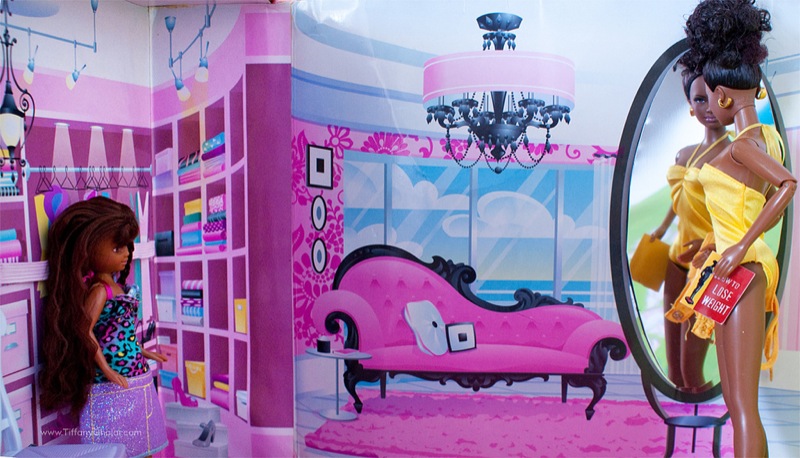 You Are Beautiful, Too
Barbie—the Great American Blonde, with her red lips, white teeth, and blue eyes—has become iconic, and her name is now so synonymous with the concept of the fashion doll that it is used generically. The reason she looks the way she does is the same reason why G.I. Joe action figures have weapons: toys are a miniature representation of the larger world we live in. But having a standard of beauty is very limiting. In film, television, and advertisements, we are presented with the same types of faces and bodies over and over again. The predominant message seems to be that there is only one way to be beautiful.
But there is no right or wrong way to have a body. Why must there be a hierarchy of beauty? One of the goals of this project is to call attention to the absurdity of our beauty standards. I wanted to do it without trying to create yet another hierarchy. Statements like "real women have curves" or "modest is hottest" or "the blacker the berry, the sweeter the juice" are just as exclusionary as the standards of beauty they seek to confront. Such views pit the fair-skinned against the dark-skinned, the fat against the thin, and those who dress modestly versus those who like sexy clothes. This leads to the kind of hierarchical thinking that is counterproductive.
I believe that the real solution is having a pluralistic view, to consider the importance of "also" and its synonyms. It is my hope that viewers will be able to look at these dolls, who are all so different from the "standard" Barbie doll, and be able to say, "They are beautiful, too."
I wanted this last poster to look like a quilt, so I used sixteen different patterned backgrounds. All are from items I had at home: skirts, scarves, scrapbooking paper, fabric samples, and even a binder I once used while in design school. In contrast to the stark white, uniform background of the Fashion Victims poster, these colorful backgrounds symbolize the uniqueness and individuality of each of the dolls I used, and using so many of my treasured possessions as backdrops makes it very personal.
This poster is dedicated to all the girls and women in the world. I hope everyone will see that I am not trying to condemn exercise or healthy eating, but rather to encourage them to seek a positive alternative to the pernicious notion of the female body as a never-ending improvement project and to replace self-doubt and self-sabotage with self-acceptance and self-respect.
See the artwork in person:
If you are in the Chicago area, you can see The Doll Project tonight, Friday April 11th.
410 S. Michigan Avenue, downtown Chicago
The Fine Arts Building
Second Floor Gallery
5:00 – 9:30 p.m.
The book "The Doll Project" can be purchased on Blurb and Etsy. Prints of the photos, t-shirts and tote bags are available via society6.com.