THE ILLUSIONISTS is a feature-length documentary about the marketing of unattainable beauty around the world. To find out more about the film, click here.
Last week, I read a post on one of my favorite blogs – Photoshop Disasters – about the weird anatomy of a Victoria' Secret model: she seemed the obvious victim of a botched Photoshop alteration.
Intrigued, I visited the Victoria's Secret website, looking for other examples of Photoshop blunders. I found dozens of examples.
In most cases, models' bodies were retouched to make them look even thinner. I was blown away by this: I mean, Victoria's Secret is already using in its campaigns some of the most beautiful women in the world.
Their strategy seems to go as follows:
1) Pick only women who adhere to the One and Only Official Beauty Standard: young, beautiful, extremely thin BUT large breasted
2) Manipulate their photos in order to make their beauty even more impossible to achieve, with bodies that do not really exist in nature
Here are some examples of their offenses (body symmetry = optional):
In this photo, the model's body doesn't appear to be symmetrical. On the left hand side, it's hard to distinguish where her arm ends and her hip begins. Also, the shadow on her inner left thigh is strange. It's as if it has been cut and made thinner.
The same model as before. Surprise surprise! Her breasts are much larger than in the photo before. Photoshop magic? Also, there is something weird happening on her left side: it's as if it has been slimmed down via digital retouching. Her hip seems to be thinner than on the opposite side of her body.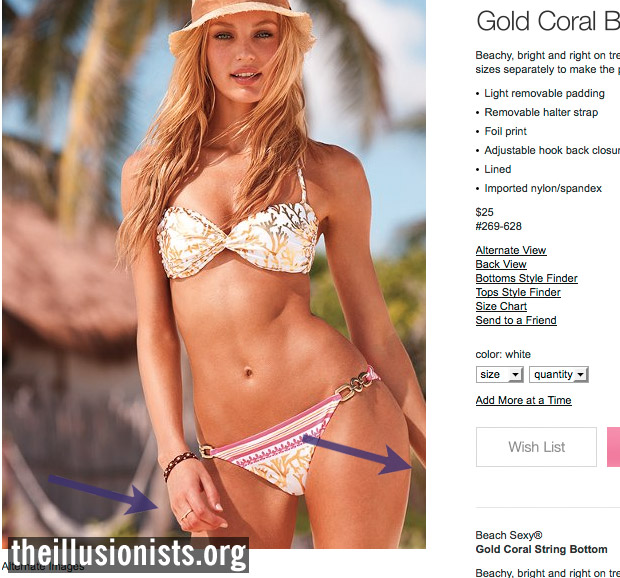 Her left arm (on the right side of the photo) is going on and on… where is her hand?!? It's as if the two arms were different lengths.
What happened to the model's hand?
Poor Candice Swanepoel is the victim of yet another botched Photoshop job – what's going on with her arm? Ewww!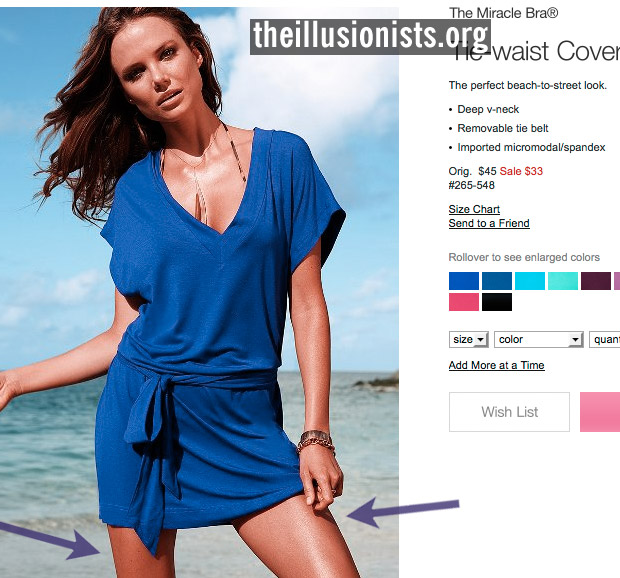 Yet another model with a strangely asymmetrical body: her right inner thigh appears to have been digitally slimmed down.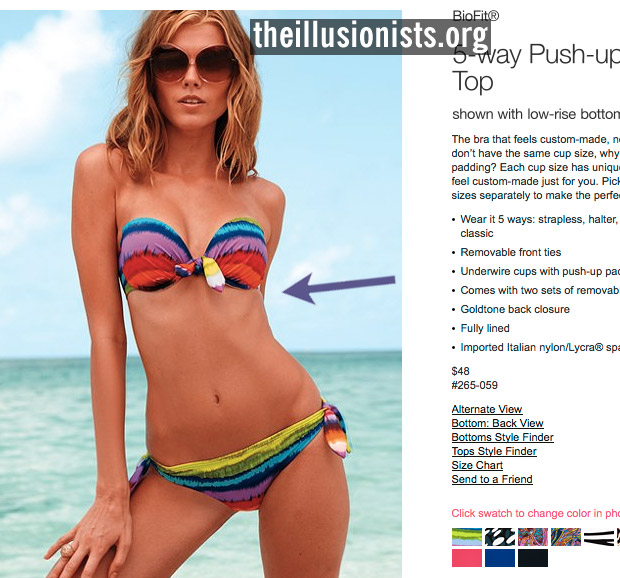 Oops! The digital artist made the left arm disappear.
Again!
One arm is a lot larger than the other… go figure!
The verdict: the Photoshop retoucher working for Victoria's Secret may need to see an optometrist.
On the serious side, these blatant digital manipulations constitute a serious problem.
In her book Bodies, psychotherapist Susie Orbach wrote:
A good 2,000 to 5,000 times a week, we receive images of bodies enhanced by digital manipulation. These images convey an idea of a body which does not exist in the real world. […] Now we routinely judge our appearance through a hyper-critical lens, objectifying our faults.
Do you have other examples of flagrant Photoshop blunders? How do they make you feel?

THE ILLUSIONISTS is a feature-length documentary about the marketing of unattainable beauty ideals around the world.
If you enjoyed reading this, sign up to receive new blog posts via email, so that you won't miss a thing!
Generous support for The Illusionists provided by:
The Center for Eating Disorders at Sheppard Pratt provides a comprehensive continuum of specialized care for children, adolescents and adults with eating disorders. Our holistic and multi-disciplinary approach to recovery helps individuals and families move beyond surviving to thriving.