The main reason why I'm working on The Illusionists documentary is because I see an onslaught of toxic messages targeting young girls. I have eight young nieces (aged 3 – 13) and my best friend recently gave birth to a baby girl.
Looking around me, whenever I visit supermarkets or toy stores, I can't help but notice how corporations are dead set on promoting an idea of girlhood that is extremely limited and bathed in dangerous stereotypes.
Girls are taught since an early age that their appearance is their most valuable asset. I lost count of the number of games/toys centered around shopping and beauty makeovers. In the past 10 years, the stakes have gotten higher: mass media and a plethora of clothing companies are increasingly sexualizing and objectifying young girls – in creepier and creepier ways. There was uproar in the United States this past summer, when the French label Jours Après Lunes launched a lingerie line aimed at 4 year old girls, using inappropriate pictures that made them look like adults. The lingerie line – for the time being – is only available for sale in four boutiques in France and in two international locations. But the trend is spreading.
Lingerie for little girls – who won't need a bra for years – is becoming the new normal in France.
A couple of days ago I visited my neighborhood's Monoprix store (Monoprix is arguably France's biggest supermarket chain, selling food, office supplies, clothing and toiletries). On my way to the cashier, I was stopped cold in my tracks when I noticed something in the kids' clothing aisle. A teeny tiny bra that could have fit a doll. To its right there were 20+ kinds of cotton panties with labels "5-6 years old" and to its left, various other types of incredibly small bras by the brand C.F.K. (Country for Kids) for pre-schoolers. Some of them were padded. One kind came with a label that said "organic & fair trade" – as a badge of enlightened commerce. This gave me the creeps. Why would a 5 year old want to wear a bra? What I found disturbing – even more than the Jour Après Lunes debacle – is the fact that Monoprix is a major department store with tens of thousand of locations all over France. By putting on sale bras for little girls they are effectively condoning and normalizing them. And starting a very dangerous trend.
Above: bras for 5-6 year old girls on sale at French store Monoprix.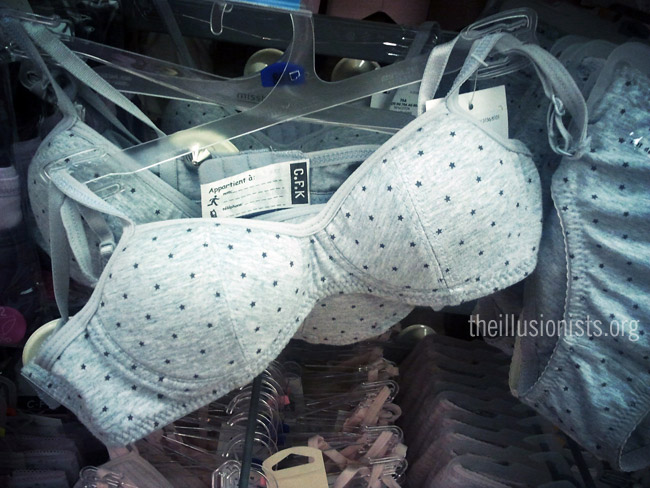 Above: a padded bra for 8 year old girls, on sale at French store Monoprix.
I did a little bit of digging around and found that there are many other French retailers selling bras for little girls. Starting at age 4.
From the popular online retailer 3 Suisses: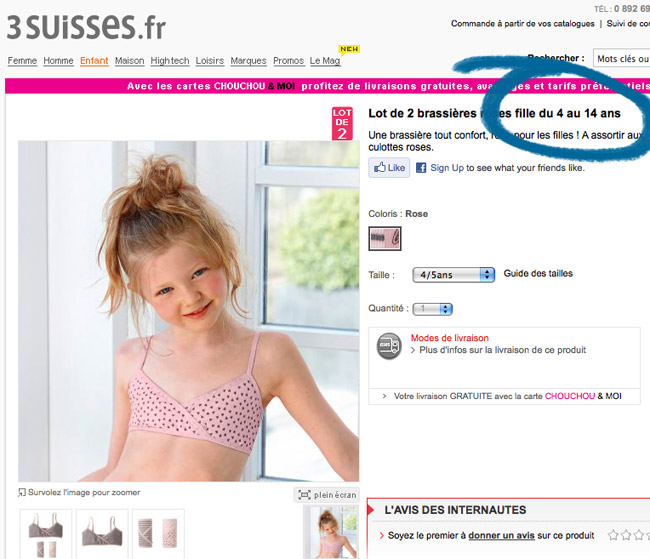 Smallest bra size: ages 4-5
Another disturbing product page: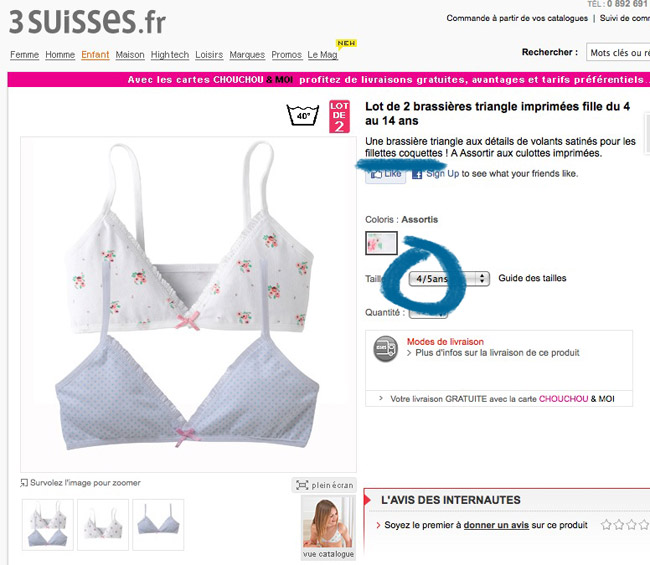 Smallest size: Ages 4-5.
The product description says: a triangle bra with satin ruffles for appearance-conscious little girls.
From the discount store TATI a "Push Up Bra" for little girls:
How disturbing!
Something similar happened not long ago in the United Kingdom. The stores Tesco, Primark, Next, and Peacocks were selling padded bras aimed at 5 year olds. Child protection agency The Phoenix Chief Advocates called for a boycott and even Prime Minister David Cameron joined in the protest, describing the sale of children's padded bras as "disgraceful." They were eventually withdrawn from the stores.
I wonder if the same could happen in France: a boycott and a ban of these products. The UK has some powerful advocates: Prime Minister David Cameron has backed several measures against the sexualization of children and the commercialization of childhood. MP Jo Swinson (whom I have interviewed for "the Illusionists") has spearheaded multiple victorious campaigns against excessive airbrushing and she is actively working to promote positive body image through the Campaign for Body Confidence. Equalities Minister Lynne Featherstone has backed an initiative that will promote media literacy lessons across schools in the UK, teaching kids how "idealized images in advertising and the media are used and how this can affect our body image." If only we could have similar advocates in France!
Here are some suggestions on things to do:
You could voice your displeasure on the Facebook wall of the store 3 Suisses.
You could share this post with people & bloggers you know (for instance, you could forward it to tips@jezebel.com or redaction@causette.fr).
If you have noticed similar products in your local stores, please send photos at illusionists.film@gmail.com and I will include them in an updated version of this post.
As the Latin saying goes, "Qui tacet consentit" (silence implies consent).
Generous support for The Illusionists provided by:
The Center for Eating Disorders at Sheppard Pratt provides a comprehensive continuum of specialized care for children, adolescents and adults with eating disorders. Our holistic and multi-disciplinary approach to recovery helps individuals and families move beyond surviving to thriving.